Walking Through Life Essay
When I was nine, my father found a new form of entertainment for me. Whenever our schedules were free, we took the subway from Manhattan's Upper West Side to the end of the line and walked around, exploring the neighbourhood. We saw swampy marshes in Canarsie, Brooklyn, public housing projects in Astoria, Queens, and beautiful, forested Van Cortlandt Park in the Bronx. One time, my father poked his head into a pub and everyone scattered. We never found out why.
In this way, I learned to love New York City. I still do. And over the past four years, partly in homage to New York, but largely to furnish material for a book-length study, I've walked some 6,000 miles across the city's built-up terrain — that's 120,000 blocks. The question, for a professional sociologist such as me, is: was this the best way to study a city?
Approached correctly, walking forces you to slow down and really look at what you're seeing. Like the flâneurs of times past, one needs to stroll leisurely and engage people in conversations about how they feel about where they live, what they do, and how they perceive the place is changing. Had I driven through the city, along its highways and thoroughfares, I would have missed 90 per cent of what I found: the teeming life of the city's backstreets, its parks and playgrounds, its outdoor and indoor eateries — all this would have remained invisible to me. Besides, driving (and for that matter, cycling) tend to mark you as an outsider, even if you live there. When you cover ground quickly, people assume you're just passing through. But when you walk through a neighbourhood, people assume you've got reason to be there.
Subscribe to Aeon's Newsletter
With walking, it's the journey that's the destination. The minute you begin observing, you're there.
Six thousands miles might seem a ludicrous challenge but, like the proverbial mountain, you walk it one step at a time. A marathon runner could cover the ground I walked in 12 or 14 months, but my leisurely pace was both less strenuous, and much more systematic. I used street maps and marked off each street, correcting for haphazardness and habit, since people tend to stick to their routes and repeat patterns. I myself had lived in Washington Heights, in upper Manhattan, for eight years, and thought I knew its every part. I didn't. I'd often walked 164th Street, but rarely 163rd. Ditto for 159th, as opposed to 158th Street. Returning to the area as a participant-observer, of the kind valued by urban ethnographers from the Chicago School of the 1920s, onwards, I discovered places I'd never seen before.
I often entered interior courtyards of buildings where I watched children playing games bounded by arcane rules that only they knew because they'd created them. I saw unique architectural details, not visible from the sidewalk. I entered apartment buildings and experienced the smells and sounds of urban life as it is experienced indoors. One time, a man allowed me to see his apartment on the 21st floor of a housing project. Inside, I discovered that the entire living space was done in bright red — the walls, tables, chairs, even the microwave oven and the clothes-hangers in his closet, not to mention the silverware, or, should I say, redware. Why? 'I've always loved red,' he said simply. The takeaway for me was that we can't always fully explain human behaviour. My studied trespass brought home the fact that our tools are bounded by the limits of human understanding — ours and that of others.
Walking slowly through NYC, I saw things that a cyclist, threading through crowds, or trying to negotiate spaces filled with automobiles, couldn't see. Could a cyclist look for more than a second at the fifth floor of a building on a narrow one-way street and notice the large letter 'M' carved into its façade, and then explore its meanings for the residents? Or look down at the sidewalk and discover the intricate designs of trellises, flowers, and leaves etched into its surface, without risking life or limb?
One of my aims with this project was to try to comprehend the actual physical process by which a neighbourhood gentrifies. I asked an Asian student emerging from an apartment building in what was once a sketchy part of Manhattan's Washington Heights area if the neighbourhood's ethnic population, once poor and mainly Hispanic, was changing. He told me it was becoming much more mixed. 'But,' I demurred, 'the names next to the buzzers in your own building are almost all Hispanic.' 'That's only because we haven't had a chance to remove them and put our own names in yet,' he said, with a twinkle in his eyes. And so I learned that reality isn't always what you see. More important, I realised, you must ask questions, not simply observe.
The Hasidic neighbourhood of Williamsburg abuts the black community of Bedford-Stuyvesant at Flushing Avenue. On one side of the avenue are privately developed apartment buildings occupied solely by Hasidic families. On the other side, the Marcy Houses, a red-brick public housing project built in 1949, loom over the street. I saw three Hasidic children with velvet skullcaps and curly side-locks standing on a balcony, staring intently at a basketball game going on in the playground outside the Marcy Houses. Perhaps they were keeping score. Or perhaps they wanted to join in. This was the childhood home of rapper Jay-Z — so named, according to internet legend, because the J and Z subway lines run nearby. It looks and feels like a 'don't cross' border.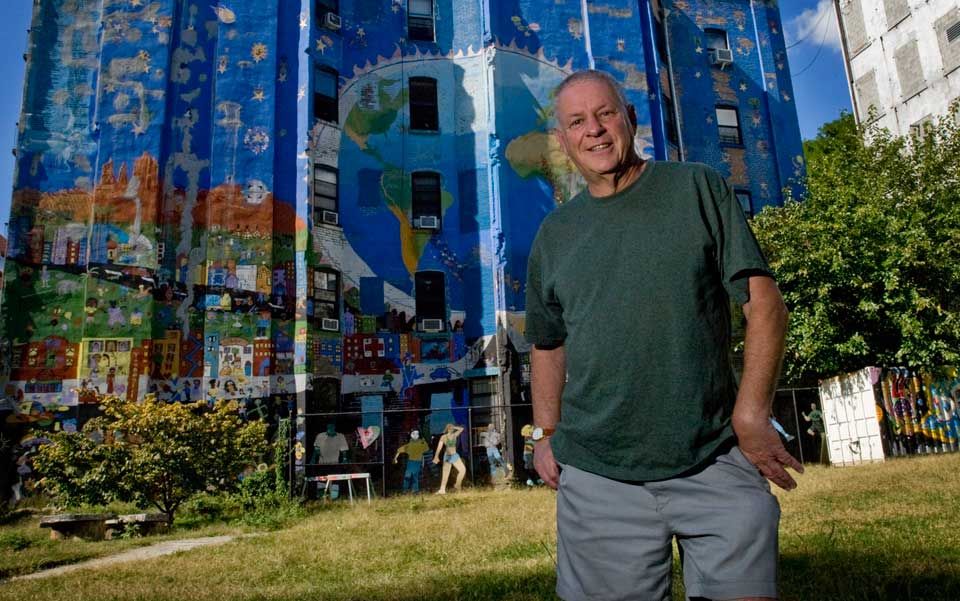 Sociologist William Helmreich takes time out from walking to admire the Centro La Paz Mural on 125th st, East Harlem.
Photo by Neville Elder
New York City policy is to not tear down housing projects, but to rehabilitate them. Where will the Hasidim, with their explosive birth rate, go once their area has filled up? Walking through the project, I find out soon enough. They've built more apartment buildings deep in the black area beyond the project. It's sort of like a river that, when blocked, simply flows around the barrier and continues.
'We're proud of what we've built here, and no one messes with this stuff. They wouldn't dare.'
Walking through the project buildings, I learned something else. In stark contrast to the grim outward appearance from the main thoroughfare, there are beautiful gardens, created and maintained by the residents. Brilliantly coloured flowers grow here, as well as manicured shrubbery, which surrounds statues and drawings done by local residents. No one has vandalised them. 'We're proud of what we've built here, and no one messes with this stuff,' an elderly woman sitting on a bench told me. 'They wouldn't dare.'
Walking along the newer structures beyond Flushing Avenue, where the Hasidim are still a minority, black, Hispanic and Hasidic children play ball together in the street. It's the kind of contact that will probably soften their views about otherness as they grow into adults, working in this multi-racial city. The Hasidim are seen as insular, but are they as insular as children raised in the all-white Bronx community in Edgewater Park? In gentrifying areas, you see who talks to whom, and how comfortable they are by their body language. In taverns or restaurants, you see races intermingle, belying the stark categorisations of town planners, statisticians and theorists.
The delight is in the details. Had I not walked, I would never have met the man standing on his porch in Jamaica, Queens, watering a small, neatly kept garden filled with lovely, unusual flowers. 'These flowers are beautiful,' I remarked. 'Where did you get them?' 'I'm so glad you asked,' he replied softly. 'They are flowers from my country, Guyana, which I love. I planted them to remind me of home.'
Here was an expression of the pain, even heartbreak, of leaving one's native land, that no amount of probing dry statistics about remittances to the homeland, residential patterns, or ethnic credit associations could yield. And it opened a window for me on to the deeper struggles and hopes of immigrants.
To really understand the immigrant experience in New York City, you need to encounter immigrants on their own turf. The American approach of respecting, even celebrating, ethnicity can lead to the formation of communities isolated from larger society in ways that make their socioeconomic progress so much harder.
For example, there are neighbourhoods, parts of Bushwick and Washington Heights, where hardly anyone speaks English. You can't get directions or buy something in a store unless you speak fairly good Spanish. I interviewed a Dominican building superintendent who has been living in the city for 27 years. He spoke no English. Why is that, I asked through his nine-year-old daughter, who was our translator. 'Because I don't have to in this neighbourhood.' His daughter will have an easier time.
The hot-dog vendor from India explained that his life isn't important. He's doing it for his children
It's not just about the language, but the importance of success and how it is measured by immigrants. I speak with a hot-dog vendor from India and ask him if this is what he dreamed of when he came here. It isn't, he admitted, but then he explained that his life isn't important. He's doing it for his children. I found that immigrants are acutely conscious that they're changing the trajectories of generations to come when they decide to emigrate from their often-impoverished homelands.
In Brooklyn, I came across a gentrifying block lined with brownstone dwellings. One of them featured a simple sign that read 'P De Rosa — 180 — Grocery'. Underneath were neon signs for two old-time beers — Schaefer and Rheingold Extra Dry. It was clearly not a functioning establishment; so why was the sign there? After chatting with a woman sitting in front of a nearby house, I learned that it had been a grocery store many years ago. I tracked down Mr De Rosa's grandson who explained that his family had kept the sign out of respect for his grandfather's saga of immigration and hard work, eking out a living, his native village in southern Italy far behind him.
'It's a matter of respect,' Mr De Rosa's grandson said quietly. 'For me it was an important lesson about filial love. Every Christmas and Easter, the neon lights are turned on for the beers that were advertised in the old days.'
And then there's the 'Halem Bike Doctor' (the misspelling is deliberate), a man who fixes bicycles, sells them at unbelievably cheap prices, and then sponsors an annual Father's Day bike race around adjacent Marcus Garvey Park, open only to 'children with good grades'. Or the man whose small yard, and much larger garage, featured thousands of memorabilia items from the Brooklyn of the 1950s and '60s. Memory and lived experience are everywhere layered together, then brought into relief by community characters such as these.
Without walking New York City block by block, I would never have known about these jewels, or had the opportunity to converse with the hundreds of people I encountered on my jaunts. Without walking the entire city, I would never have learned which of the things I found were representative of the city as a whole and which, on the other hand, were uniquely interesting and so worthy of inclusion in my book. Seeing and understanding these patterns and repetitions enables the researcher to see connections from one area to another, and to realise how it's all part of an interconnected whole.
So often it was the chance encounter, followed by a spontaneous exchange, that led me to important insights. Walking one day through a somewhat hazardous part of Bushwick, Brooklyn, I came across a tall, burly black man walking four pit-bull terriers. What made the sight really unusual were the two boa constrictors curled around his neck. When a woman with a girl of about seven approached, he proclaimed: 'Here, your child can pet these dogs!' And when she drew back, he complained in a mocking tone: 'Now you're not being a nice New Yorker.'
I fell into step with him, and was surprised to find a man on the next block, also with a young child in tow, take him up on his offer. The man allowed his daughter to pet the dogs and then stood by admiringly as one of the boas encircled the fearless child. No one paid much attention to the black man, the snakes, or what he was saying. In a posher area, a crowd would have gathered, gaped at this menagerie, and most likely have called the police. After all, owning wild creatures in the city is illegal without a special permit. What the incident brought home to me was that the norms of behaviour in New York vary greatly, depending on where you are. 'Big deal. This is Brooklyn,' said one man when I asked what he thought of the scene.
'If the murder rate went down to 500 a year, then 400 of them is happening right outside my building.'
I learned a similar lesson outside the Jackson Houses project in the South Bronx, when I asked a black woman if the area was dangerous. She told me that it most definitely was. When I informed her that the murder rate in the area had declined dramatically from about 2,000 deaths a year in the 1980s and '90s to about 500 today, she retorted: 'Oh yeah? Well, if the murder rate went down to 500 a year, then 400 of them is happening right outside my building.' Perceptions of crime are relative. It might be down in overall numbers, but the distribution is what counts to those living in high-crime areas.
In a crowded metropolis, where people are busy, you find that the niceties of communication are frequently ignored. People don't listen to you because they're on the clock. That's what happens in a large city, where, as the German sociologist Georg Simmel said a century ago, time rules the day. Yet when I asked if I could use a photocopier machine, because my daughter was getting married, the answer was 'Sure.' Or when I requested permission to use a bathroom, saying: 'I'm going on vacation next week,' I'd be told 'Go ahead.' As long as you at least say something, it's fine. Perhaps Simmel overstated his case — since there are times when time doesn't matter.
Some of my most intense and revealing conversations with strangers took place on the busiest of streets. Waiting for a bus on Brooklyn's bustling Atlantic Avenue, a woman poured out her heart to me about her 'mean and crazy sister' who was stealing money from their joint bank account. Another person railed about how he'd been driven out of the community in which he grew up; while a third explained why his dream was to be a filmmaker.
There's no question that walking a city, be it London, Paris, or New York is challenging, arduous and, at times, dangerous. Most cities do not have ideal climates. You can't walk only when the weather is clement, or doing a project of this sort will take 20 years to complete. I walked in all four seasons, in light rain and in snow flurries. Sometimes I'd travel two hours to my starting point, just to walk for a single hour. You grab time when you can. I'd walk early in the morning, late at night, weekdays and weekends. I often had to walk four hours in a day to find, in the last minutes, the 'gem of the day'. It's highly intensive labour.
But the rewards make it immensely worthwhile, sociologically, and in human terms. Stride for stride, I believe there's no better way to really know a city.
Syndicate this Essay
Architecture & LandscapeCitiesMemoirAll topics →
William Helmreich
is professor of sociology at CUNY Graduate Center and City College of New York. His latest book is The New York Nobody Knows: Walking 6,000 Miles in the City (2013).
aeon.co
Air (an essay to complete the four elements, see also "water," "surface," and "vital heat")
They were burning the fields in Helambu, mountains terraced like a 3-d model of a topo map but nearly as old as human history. First they burn the chaff and straw, then cultivate with short-handled heavy-headed hoes, a design older than the millennium. In the larger fields, a wooden plow is pulled by a yoke of yak, writing simple lines in the soil with a metal tip tapering to a plain point. The plows are carved from a small tree-trunk with a heavy root angled by the winds, water, and rocks where it grew. A handle is mortised at the butt to give the plowboy control over depth and direction. The ashes from the burn are turned into the soil, but only after the fire has filled the sky with a choking smoke. In the villages they heat and cook with wood, often in rooms without chimneys. Instead a hole up in the eaves helps draw some of the smoke from the kitchen. The paths that wind between villages and farms are littered with empty coughdrop blister-packs, an attempt to sooth the irritation of indoor and outdoor smoke. The latter was completely unexpected as I climbed the trail, finally gaining 3690 meters of altitude. Higher than I had ever been but still not above tree line. The forest remained primarily pine and juniper, though becoming more scrub-like as the afternoon progressed. Ahead was a peak the path would go around, but I could see a recent rockslide had sheared off most of its face and the trail rerouted at that point. The foot stones were fresh and there were small cairns signaling the way, but as it turned out, in order to get past the slip, the path went almost to the peak. My altitude sensitive lungs went on full alert. Until this point, the hour estimates printed on my map had been spot on, but the walk from Mangengoth to Thadepati Bhanjyand was listed as one hour and took two and a half. Not sure what the kilometers were, but at this altitude they are of little consequence. The only thing that mattered was the air.
It is not surprising that Buddhist meditation practices focus so intently on breath. Spiritus is elusive at altitude. Just moving about in the Himalayas is an exercise in breathing, a palpable factor in all activity. Visiting the gompa at Bhraga required not just a long walk up the Annapurna Circuit but also slow acclimation. The general rule of thumb is not to gain more than 1000 meters altitude per day, and I was by no means pushing myself on arrival at the village. On learning I could see the inside of the monastery which was perched high on a cliff above the village, I had to hustle to get up to it in time. Almost immediately, oxygen debt crushed my stamina. I slowed and methodically made my way to the entrance where I was met by an ancient Nepali doorkeeper who instructed me to remove my shoes and compose my breathing, then led me into an exuberance of Buddhist statuary, imagery, and manuscripts. I wandered in a daze, enthralled at the spectacle and the history it contained (I'm sure lack of oxygen contributed to that daze). On leaving, she tied a thin, blue-green string around my neck (which remains to this day), and I breathed one last time the smell of incense and ancient learning before descending some meters to the village and its relatively richer oxygen world.
Bhraga is on the Annapurna circuit in Nepal. As a child I was a voracious reader in a house with a decent but limited library. I remember Maurice Herzog's account of the ascent (and more important, descent) of Annapurna in the first expedition to summit what was then the highest mountain yet climbed by Western mountaineers. That story remained tucked in my psyche, resurfacing when I read about the circuit. I've been trekking long enough to have chucked the "bucket list" mentality over the edge many years ago. My idea was to walk around the Annapurna massif as a sort of pilgrimage, like the Buddhist circumambulation of Mt. Kailash. In my pilgrimage, I would see the villages, people, and countryside but also the places Herzog's expedition passed, and I would see the mountain that bulked so large in my childhood imagination. Except for ice gear, I carry the equipment necessary to meet most challenges on a trail. The description of the Annapurna Circuit was quick to point out that people of moderate fitness were capable of finishing, so I didn't worry much about the specifics. My first days out were uneventful, walking without a guide on a well-marked, well-travelled path. As the days passed, I encountered many of the same trekkers, listening to their conversations which almost never mentioned the walk itself. Instead, like a mantra, they repeated the words "Thorung La," a pass that, at 17,769 ft., was the highest point on the circuit. It soon became clear most of my hiking colleagues were focused almost exclusively on the challenge of that pass. Along with the 1000 meter rule, everyone hydrated relentlessly and many ate lots of garlic, a folk remedy I was most happy to follow. Morning eggs in the guest houses were usually covered in garlic. Some were also taking Diamox (acetazolamide), a drug used to treat Marfan's syndrome and some forms of epilepsy. It is a diuretic which tends to acidify the blood, causing deep breathing and increasing the blood's oxygen supply, so it supposedly works as prophylaxis for mountain sickness. For these people, a pilgrimage around and through a remarkable landscape had been reduced to hemoglobin, to blood and oxygen.
My passage over Thorung La was uneventful. A beautiful but bitter cold day, a long steady climb followed by a hasty descent to Kagbeni, it was satisfying and, by walking at a judicious pace, my blood remained well-oxygenated. A few weeks later, on another continent I came to understand thin air. I began the final ascent of Mt. Kilimanjaro at midnight, but not before asking the guides about the rationale for such a strategy. We had already spent days acclimating, and it seemed unwise to disrupt diurnal patterns just at the moment we were readying for the big push. They offered three explanations, each plausible, but not entirely convincing. The hike up from Kibo huts to Uhuru peak is less than six km with a little more than 1000m altitude gain. The summit is 5895m (19,341′). For comparison, Everest is 29,029′, and the highest peak in North America is Denali coming in at 20,310′. So the first answer had some merit– seeing the sunrise from the crater rim is an incredible experience. People walk up Poon Hill in Nepal starting at 4:00 am to see the sun rise over the Annapurna massif and Daulighiri, but that is a well-marked and fairly short track. Another reason: it was the wet season and the rains tend to start mid-morning, so they wanted to get up and then off the mountain early. The last, which seemed both patronizing and nonsensical, was actually the best. Hikers cannot see what they are climbing in the dark. It might only be six kilometers and only 1000 meters elevation gain, but it is straight up the highest mountain in Africa. At 11:00, we had coffee and biscuits and by the stroke of midnight were walking out of camp, each wearing a headlamp directed at our feet. We soon discovered that rain the day before was snow up high, and within the hour we were in ankle-deep powder, each of us following single file, seeing only the terrain illuminated by our headlamps and concentrating on the footprints directly in front of us. This went on for six hours. Initially, I treated it the way I do all long treks. Walking is an opportunity to think, but walking and thinking at high altitude is a curious and subtle experience. I found while I did the Kili shuffle–placing one foot directly in front of the other, heel to toe with no space between (very much Pink Floyd's The Wall walk)–I could maintain a train of thought, but soon the lack of oxygen took effect, and I could only focus on the feet stepping in front of me, step after step, hour after hour. Climbing in snow is physically taxing, and as the air thinned, every misstep or slip interrupted carefully patterned breathing which in turn made me stop to pant, trying to get oxygen balance back. The new snow slowed our pace, so we arrived at Gilman's point on the crater rim much later than expected. Kilimanjaro is a dormant volcano– a singular peak rising out of the Rift Valley that characterizes the geology of East Africa. We rested briefly, and for the first time could see beyond the halos of our headlamps. The sun washed across the landscape, making shadows of unbelievable intensity and finally breaking the monochrome of our night walk. By now I was really feeling the altitude. I had crossed Thorung La with little distress, but given the exertion of climbing in snow, I was gasping for air and feeling many of the symptoms of altitude sickness. Nevertheless I continued the last bit of the climb around the crater rim to Uhuru point. There were congratulations all around, but what stunned us all was the sheer magnificence of a clear, rainless morning looking out over the glaciers surrounding a breathtaking crater (and I mean breathtaking in its most literal sense). We soon turned back– lingering at the peak invites many problems including body-temperature drops and perhaps more time sliding down the incline in the rain. We made our long return to Kibo huts, and each step brought more oxygen. After a glorious hour resting, we geared back up and made the descent to Horombo, had supper and slept the sleep of the dead. Emily Dickinson once wrote that "the brain is wider than the sky." On Kilimanjaro, I learned that a tired, physically stressed, and oxygen-starved brain is no wider than the faint outline of a headlamp illuminating footsteps in the snow.
Air signals its presence in other ways, perhaps most directly by moving. In Nepal climbing to Tilicho Lake, I watched the snow on a mountainside break off, sliding into a ravine a couple of kilometers from where I walked. There was no danger the avalanche could reach the trail, but in a few moments the clear sunny day was filled with airborne ice crystals moving east fast and wet. About 20 minutes later, the same ricocheting wave recrossed the path, this time moving west, once again covering me completely in ice. The Tongiriro Crossing on New Zealand's North Island involves altitude change though nothing like Kilimanjaro. The edge of the Red Crater is a little over 1800 meters and when I was to cross during my hike of the Te Araroa Trail there was still snow, a lot of it. Tongariro is one of those hikes that swiftly changing weather can make dangerous. My morning started out cold (down at low elevation) and wet, though there were glimpses of sun, and the cloud cover did not look significantly different from a typical New Zealand morning in late Spring. My plan was to first hike to the Ketatahi Hut which was about 18 km, so I hoped to get there mid-morning and would then have a sense of how the weather would play out. Early on the hike went well, a long road walk followed by well-designed and maintained paths. When I emerged from the bush and started hiking the alpine tundra the temperature started to drop, and the wind picked up. Still, I was well dressed in wind/rain gear, ready for what I thought would come, but the rain intensified and the wind was soon gale force. At times it actually pushed me off the trail. The last kilometer or two were otherworldly– horizontal rain, freight-train wind, and no clear end in sight. Then the hut appeared (not a moment too soon). The first thing I saw when I got to the door was a sign redesignating the hut as a temporary shelter. It was not an overnight site any longer because of a recent eruption which had dropped rocks through the roof and disrupted the foundation. I went inside, stripped off wet clothes, and with shivering hands made an early lunch. As I did not get appreciably warmer–the wind by now was bashing the sides of the cabin– I spread out my sleeping bag on the table and crawled in, which soon got my body temperature to a better range. Before long some Department of Conservation people showed up to work on the hut, surprised to find anyone there in such weather and relieved that I had decided to return down the way I had come. I packed up, headed back into the maelstrom, and could feel the temperature creep up as the altitude decreased. While hiking back down the mountain, I thought about Thoreau in The Maine Woods where he climbed Katahdin, though he did not achieve the summit. His description of the mountain is some of his best writing, and I was thinking about how to him Katahdin was a cloud machine, making its own weather. He did not end up posing at the top for pictures the way Appalachian Trail thru-hikers do today, but he experienced the mountain in all its weather fury. From that perspective, his was a successful climb, as was mine that day on Tongariro.
Another of Thoreau's mountains is New Hampshire's Mount Washington, a place where the air asserts itself insistently. It is a mountain with a constant flow of tourists. I remember one day climbing it through the Tuckerman Ravine with one of my sons. Like Katahdin, Washington is also a cloud factory, so on nearing the summit the mist came in. Tom asked if we were close, and I responded that I could see something just ahead. As it turned out, that something was the bumper of a car. We summited through a parking lot, then stood next to tourists in street clothes waiting our turn to snap a picture by the sign at the peak. Flat and exposed, Washington is situated at a point where major storm systems from the south and the west converge. It can have temperatures as low as -35 and, at 231 mph, the highest wind speed ever directly recorded by humans. It is no wonder that in the past 150 years, almost the same number of people have died on its slopes. Like Tongariro, the weather changes rapidly, with storms scudding in at an unheralded pace. Standing at the peak, ignoring the cog-railway and full parking lot, watching the clouds mark the wind direction and speed, is to experience air as air.
Today when people speak of a medium they might be thinking of a trafficker in the spiritual realms but more likely are referring to a communication medium. I currently teach in the newly re-named School of Literature, Media, and Communication, where media finds itself squarely in the middle, sandwiched between an elderly media form and the study of how to get the message through as clearly as possible. At least since McLuhan (actually since Plato), people concerned with effective communication focus not just on the message but also on its medium since, obviously, its specific affordances configure the messages that pass. Idealists desire transparency, the mythic state where the medium recedes to such an extent that the message stands clear for all to see and understand. In Remediation, my old friend and colleague Richard Grusin makes the distinction between immediacy and hypermediacy, where the first characterizes the push for transparency while the second calls attention to both the limitations and the affordances of the medium itself. Similar to Heidegger's tools "ready-to-hand" and "present-to-hand," immediacy and hypermediacy are engaged in a constant dance. One leads for a moment, then the other, as the message is passed and its medium registered. In the last half-century, we have come to think of information moving through a medium as fundamental to the maintenance of society and vital for continuing life through our very genetic structure.
In a climate-controlled environment (at least in the West), air rarely shows itself as hypermediacy. Instead it seems textbook immediacy. Indeed, except for startling instances of dense air pollution (or to a trekker on the Helambu circuit during spring field preparation), the primary characteristic of air is its transparency. Something invisible, beneath notice, surely does not carry a message of consequence, but of course it does. We respond somatically to changes in air pressure. We feel deep in our souls the freshness of a clear cool morning. We feel the oppressive weight of water on a humid day, and a stiffening breeze signals a change in the weather. The down on our cheek trembles in the slightest current of air or shift in temperature, but what makes air so clearly a medium is its very transparency. To experience the big outside on an exceptionally clear day is to be enthralled by its clarity, by exactly that which you cannot see. As William Carlos Williams says in the first poem of Spring and All:
under the surge of the blue
mottled clouds driven from the
northeast—a cold wind.
* * *
Now the grass, tomorrow
the stiff curl of wildcarrot leaf
One by one objects are defined —
It quickens: clarity, outline of leaf
The transparency of the air there does not withdraw in the face of the immediacy of the object–it produces it, enables it, and mediates it. Air is our first medium.
T. Hugh Crawford
Read More →