Articulation Therapy Homework Assignments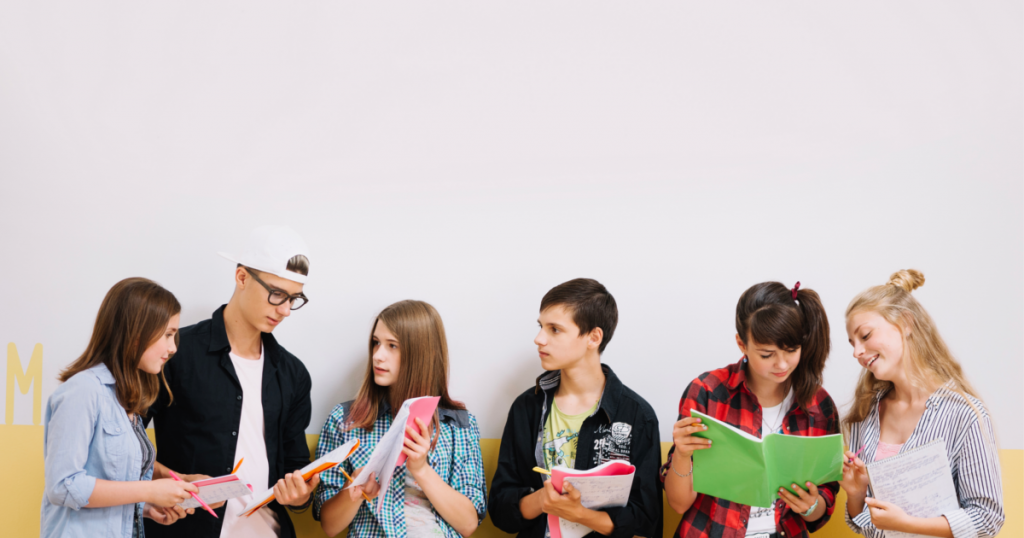 Speech therapy for older children with articulation disorders can be challenging. Here are some tips for assessment, treatment, and carryover.
Older students have been exhibiting their error patterns for a much longer time. They've become accustomed to saying and reading sounds a certain way, and their habits can be more difficult to change.
That's not to say it's impossible by any means. I have successfully treated older students with articulation disorders, and I know a lot of other SLPs who have as well.
In this article, I will share some strategies and resources that have worked for me. I work with upper elementary and middle school students. Don't feel like you need to do all of these at once. Pick a few that resonate with you and give them a try.
Articulation Assessment
You might not need to assess every child on your caseload. Hopefully their previous SLPs put some specific data in their present levels and goals of their IEPs. Check there first.
I once had a student transfer from another district with an IEP goal to "produce speech sounds with 90% accuracy". It didn't tell me what speech sounds he was working on.
My favorite non-standardized tool for gathering articulation data is the free Articulation Screener from Mommy Speech Therapy and Little Bee Speech. It offers a quick and easy way to assess each sound in the beginning, middle, and end of the word.
Phonetic Placement Training
There are multitudes of ways to help students make a sound for the first time. I'll share a few that I use most often with this age group.
If you work in a school district with other SLPs, you might want to create a google doc and share your favorite strategies with one another. I wouldn't have known about a lot of the tips I'm going to share in this article if it hadn't been for the speechies in my school district.
Since /r/ is one of the hardest sounds for students to make, let's begin there. If you're into videos, check out SPEECH: R set 1, by That Speech Lady on YouTube. Her /r/ demonstration is fantastic. If you like written instructions, my favorite publication is Let's Hear It for /R/! by Dawn M. Moore, MA, CCC-SLP. Both of these resources are totally free.
Another free resource worth sharing is a visual aid that one of my colleagues made using construction paper. I took a picture of it with my phone and will post it below. Feel free to click on the picture to see it full size.
I ended up needing to use this with some students right away, and didn't have time to make my own construction paper version. I explained it while showing them the picture on my phone, and it worked! One of my students made the best /r/ I've heard yet.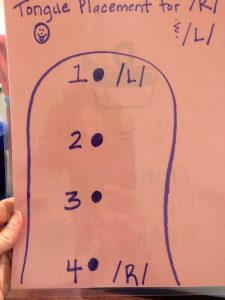 Begin with the tongue in the position for /l/, and then have the student practice moving the tip of the tongue up and back until the /l/ becomes an /r/.
If you're working with the techniques above and the student still is having difficulty, you could try using Speech Buddies tools for articulation placement. I have found the /s/ tool useful, and a colleague who uses the /r/ tool told me that she has seen teenagers use it and make an /r/ for the first time. These are definitely not cheap. I purchased these by teaming up with some other SLPs in my school district, and together we successfully applied for a grant from a local foundation.
Guided Practice for Articulation
Once your students are stimulable for a certain sound, the key is practice, practice, practice. The more trials you can get, the better. The best way I've found to do tons of trials during a session is by using the Articulation Station Pro app on my iPad. This app is made by Little Bee Speech, the same company that made the screening tool I mentioned at the beginning of this article.
I usually do group therapy sessions with 3 to 4 students. The app lets you work with groups and take individualized data on each student. You can target the sound at the word, phrase, sentence, or story level. It also lets you make an audio recording of the student's sound production. This is useful to play back to students and ask them to help you decide if they correctly produced the sound.
I keep all of the students in the group engaged by using the app's built in matching game, which is similar to "memory". I project the iPad onto my white board so everyone in the group can see it. The app's group function allows each student have his or her own matching game, and you can toggle between each student's game during the session. You can save the data and go back later and practice the words the student missed.
This app is not cheap by any means. I was able to get funds to purchase it from my school's Parent-Teacher Organization.
Carryover of Articulation Skills
We all have students with articulation goals for sounds they know how to make, but aren't consistently producing correctly in sentences or conversation. Carryover needs to be the focus for these students.
What happens in speech therapy shouldn't stay in speech therapy. You need to involve parents, teachers, and the students themselves.
Articulation in the Classroom
One tool I made for this is speech sticky note reminders. I sell the template at my store, which you can access by clicking on the above link or the picture posted below. It's much easier than you would think to print things on sticky notes.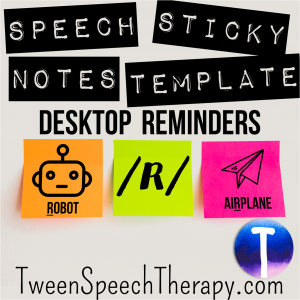 These sticky note reminders just have a drawing and one word, with the target sound underlined. There's nothing on the sticky note that says "speech therapy". Your older students will appreciate that.
I give them to my students during therapy and ask my students to place them onto their assignment books or desks as a reminder to use their speech skills in the classroom.
I ask teachers to listen for the child's sound and prompt the student by discreetly tapping the sticky note while walking by the student's desk. I emphasize that the sticky notes should be visible to the student and the teacher, not covered up.
I began using these this fall, and I am noticing one of my students in particular has become much more aware of his articulation errors, and is even self-correcting!
If you have a student who is able to produce his or her sounds at the sentence level, these sticky notes might be a big help for you.
Home Practice is Essential for Articulation Progress
I created my own homework program because I had problems getting my students to do most of the worksheets and apps I had tried.
I made small homework sheets that students put into their pockets, with clear directions about what to do. Here is a link to my blog post all about speech therapy homework, with lots of info about how to start your own program.
My students take home the pocket-sized sheets, spend about 10 minutes working on them, have a parent sign the back, and drop them into a bag hanging on a hook outside my room.
I do a prize drawing every week, by reaching into the bag and pulling out a homework sheet. The winning student gets to pick out a prize. My prizes include pencils, pencil grips, glow bracelets, bouncy balls, hair clips, and nail stickers.
My students remind me to give them their homework now, and they turn it in most of the time. And yes, I work in a public school with real human students.
I've put all of my homework up in my store. Here is a link to a free sample of pocket-sized homework.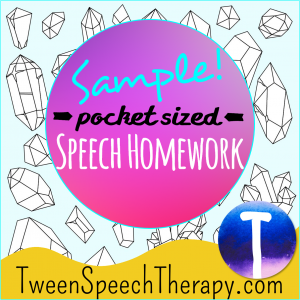 Thanks for reading!
I hope this article has given you some ideas to try with your older articulation students! Please feel free to share it with other SLPs.
---
Check out some of my other blog posts:
Free handout for SLPs to give teachers and parents
Free speech room poster
---
Sign up for my newsletter!
I created a newsletter to share ideas and let people know when I add new resources. There's a lot of other stuff I've made that I share for free through the newsletter too. Here's a link to sign up.
Subscribe to Newsletter
---
This article is intended for speech-language pathology professionals. Parents, please read about resources here. Teachers, check out classroom resources here. All third party trademarks are the property of the respective trademark owners. Tween Speech Therapy is not affiliated with those trademark owners.
Scroll to Top
---
When I first started my career as an SLP in the late 1970s, speech homework was a routine, but unsuccessful part of my therapy. Most of my caseload of 75 students were working on articulation goals. I had an accordion file with worksheets labeled by phoneme and at the end of each session, a worksheet was added to each student's folder. Only a handful of students regularly returned the folders and even less actually practiced the activities. Fast-forward to 1990 (and the next 20 years) and my caseload consisted of students in special education programs needing much intervention in the area of language. Worksheets would not suffice. Below, I have described 25 speech homework activities to use with students in early childhood and elementary grades. I have used many of these activities, but have also posted some new ideas that might easily work - none involve speech folders. Scroll down to see my thoughts on packaging and returning homework.
1. For my Early Childhood Special Education classes, I sent home newsletters telling about current speech and language activities and providing suggestions for home practice. A similar idea, language at home, developed by Kristen at Heard in Speech, is a fabulous way to provide at home language enrichment activities for young students.
2. Presentation counts!! I found some cute Articulation Boxes at Speech Gadget - these would be easy to use as speech homework.
3. Legos - When my son out-grew his Legos, as all other toys, they were mine for therapy. Package some Legos in a small Ziploc Instruct the child to build something with the Legos and bring it back to tell you about it. Great for the /l/ sound (Lego, blue, and yellow), articulation carry-over, and good for a number of language goals.
4. Send home some old sequence cards or print some new ones. The child can put them in order and tell someone about the sequence. There are numerous sets of sequence cards at Make Learning Fun (search "sequence cards"). I saw cards for literature selections such as Go Away Big Green Monster, The Very Quiet Cricket, Chicka Chicka Boom Boom, Cookie's Week and many, many more. Find science related sequence cards such as Phases of the Moon and Sunflower Life Cycle. Others included hand washing, shoe tying, and nursery rhymes.
5. Let a student take a doll, stuffed animal, or plastic figure home for night. When it is returned, ask questions such as "Where did he sleep?" "What did he eat?" "Did he like his dinner?" "What toys did he play with?"
6. One of my students loved wearing a big sticker with "Ask me to say ______." written on the sticker. By the time he walked from the speech room to his first grade classroom, he had the opportunity to say that word or phrase at least five or six times. If the sticker made it home, even more opportunities.
7. Books
Highlight target sounds in an old book.
Send home a mini-book with pictures of target vocabulary (make this with PowerPoint).
For families with Internet, suggest reading a book on-line. We Give Books, Kizclub, and Lil' Fingers are three of many sites with books and stories.
Send home a "book in a bag" complete with question cards or story props.
8. Find great articulation board games at Adventures in Speech Pathology. Send home the game, buttons for game pieces, and a die.

9. Monthiers posted by Speech Lady Liz.

10. Speech Practice in a Box, Motivating Homework for Speech Practice. Posted by Deborah Adamczyk at Speaking of Speech.com (scroll down the page to find this).
11. Send home articulation pictures or other activities along with a puppet. The puppet should practice the homework.
12. For very busy parents, try the speech and language car activities found at North Shore Pediatric Therapy.
13. Find File Folder Games at File Folder Farm.com and Ms. Arnold's First Grade Class.
14. Memory, Snap, and Hide and Seek are a few of the many ways to make multisyllabic word practice fun at Play Talk Learn. These games could be adapted for so many goals.
15. Keep a journal. Write a note (or add a pre-printed note) as to what the student should do for home practice. Examples of tasks could be counting to 25 using good sounds, repeating a target word five times, finding six soft things, five big things, or finding four things that begin with a particular phoneme. You can ask students to tell about a picture, put attached pictures in order, or draw a picture and tell about it. This is also a great way to communicate with parents - a simple note such as, Emma put three words together to say "cat in box" today., is very much appreciated by parents.
16. Use the wonderful activity calendars at Preschool Express for toddlers and preschool students.
17. For parents with Internet access, suggest web links for stories, language games, and articulation practice. Check out my web page with links sorted by category. Or, if a parent has a tablet, suggest free apps.


18. Again, for families with Internet access, Teacher Tube and YouTube have some great videos. I searched for "speech therapy" and came up with many good ideas. My favorite was Doug the Dog Teaches About the Preposition "In"
19 .
There are a variety of "flip" games on Pinterest. Find
Pancake Flip
at Speech Room News or download my version using eggs. Cut-out the eggs, glue vocabulary or articulation pictures on the blank sides, and laminate. Put the eggs face down on a table and as the child says the target words, he or she flips the eggs with a spatula. Package a small dollar store spatula, the eggs, and instructions in a large envelope or Ziploc.
21. Print and send home a craft activity from Kizclub. Don't forget to send home items needed such as a glue stick or brads. Include instructions for verbal interactions.


20. Turn old games or toys into activities to send home. How cool would it be to bring a fun toy home for the weekend?
22 Take a picture of the child doing something in therapy. Print the picture and send it home with instructions such as, "Ask your child to tell you _________ ."
23. Try craft stick activities. Find Silly Speech Sound Sticks and Artic Sticks at Sublime Speech or use the French Fry Articulation from Speech Room News.



24 Articulation /Vocabulary tubs - Put 5 or 10 small objects and/or laminated pictures into a tub representing the child's target sound or vocabulary words.


25. Laminate a Parking Lot Game and send it home with one or more vehicles to practice a variety of speech and language activities.
Packaging Makes a Difference
The package can make your speech homework a little more appealing. Use old gift bags, tins, and interesting boxes. Old articulation cards on a ring or ribbon might get more results than a worksheet. Always add instructions such as "Please read this to your child and practice the highlighted words." "Ask your child to say these words using a good "s" sound." or "Ask your child to answer questions such as .......... as you read this book." AND, "Please return." or "You may keep this book."
Returning Homework

Early in my career, I asked parents to sign homework, but as my experience grew and I changed my homework methods, I didn't see the need. If the students were motivated by the activity, I knew that it would be used in some form. The students also knew that when one "cool" activity was returned, they would receive another. I can only recall losing one item (a book) during my 20+ years without folders.


What do YOU use for speech homework?
Diana

© 2012
Some graphics from Discovery Education Clip Art Gallery